This article outlines the (three!) steps of a typical guided onboarding of TAP, so you can prepare for a successful launch of the platform.
We have successfully onboarded more than 100 institutions across the globe. While each implementation is different, there are a few steps that are common for all our customers. On average, implementation takes around 4 weeks from the Kick-off Call to actually going live but it has been done within 1 week with some customers who have ambassadors already identified. Following the plan outlined below will ensure you are in a great place to launch TAP!
The typical 'TAP Working Group' who should be involved in the onboarding and ongoing management of TAP: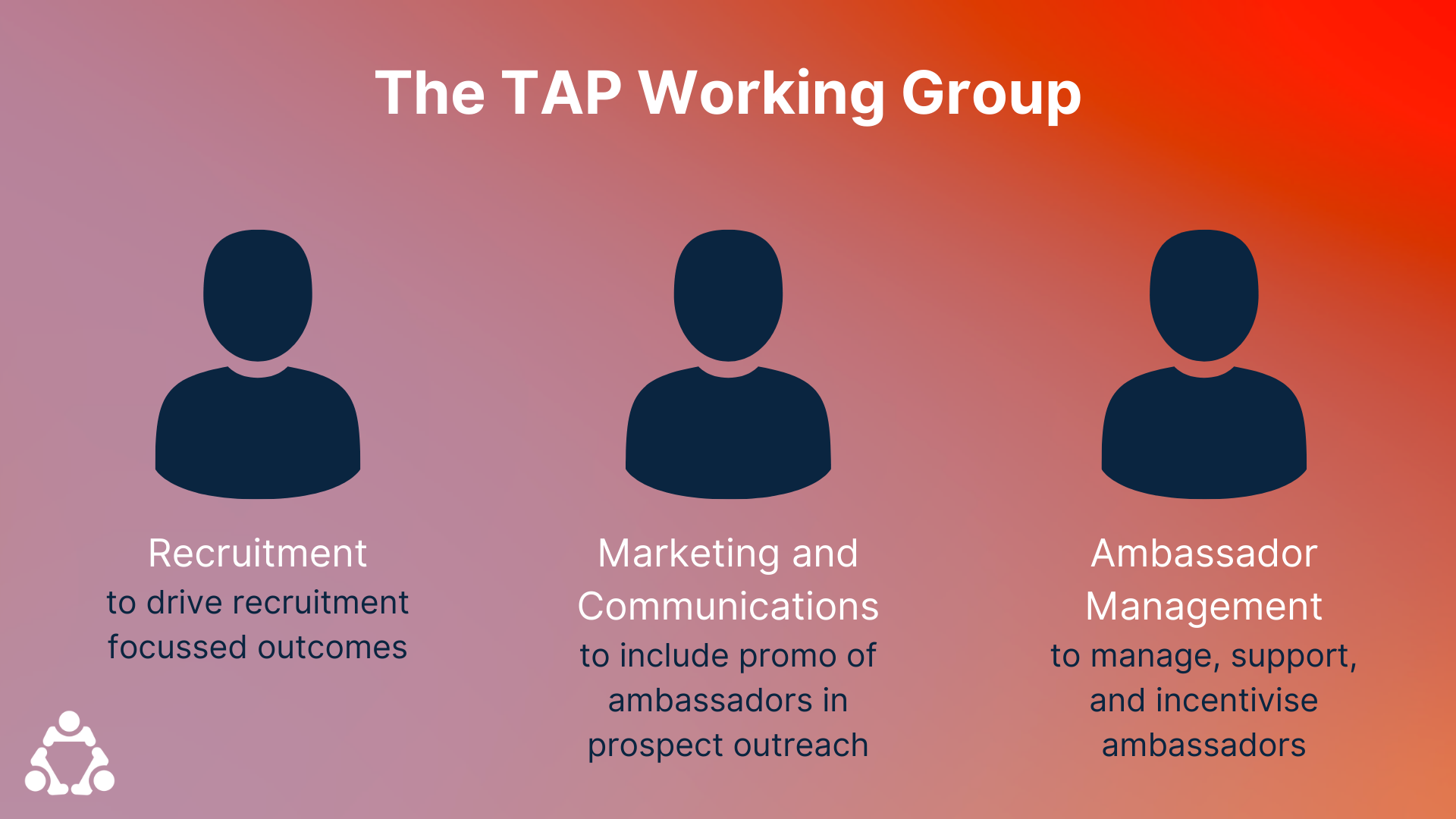 Step 1: Kick-off Call
Once we agree to our exciting new partnership, the first step is to have a 1h Kick-off Call with your Customer Success Manager. This meeting is an opportunity to learn about your strategic priorities and identify how and where the utilisation of TAP will fit in. We'll go through all the key considerations such as what your goals are, who your ambassadors will be, who your target audience is and touch on how we'll launch your Feed.
Agenda:
Introductions (10m)

Optional: Overview of TAP (5m)

Implementation Plan (40m)

Recruitment priorities

Ambassadors

Technical setup Qs

Discuss the launch

Wrap up & next steps (5m)
What happens after the call?
If you haven't already, prior to the call, you'll need to create your admin account as the first step. The project leader will be able to sign up using their personal details and work email address, and then invite any other additional admins, create their Feed and invite ambassadors. You can learn more about they key steps for a successful set up here.
Step 2: Go-Live Call
The purpose of this call is to not only run a final check of your setup prior to launching, but to also ensure you've thought of how we'll promote your ambassadors and brand new Feed so that you hit the ground running and start engaging your target audience the moment you set your page live. We'll also briefly touch on some value metrics that we could track to assess results against later down the line.
Agenda:
Catch up

Review the Feed

Overview of promotional examples in the Go-Live Plan

Discuss promotional ideas

Touch on value metrics

Wrap up & Next steps
Step 3: 4 week Check-in Call
This check-in call enables us to review the data from the first 4 weeks from when the Feed went live and finalize the value metrics for the year, considering the results you've already seen during the first month, as well as any comparative data you can provide.
Agenda:
Catch up

Review the data from the first 4-weeks

Go through the value metrics and finalize the targets

Discuss any promotional plans for the next few months

Wrap up & Next steps
We hope this is useful - as always, if you have any questions please get in touch with your Sales Manager, Customer Success Manager or send the team a message at: support@theambassadorplatform.com 😊