Key points and learnings on how to be the best student ambassador you can be on The Ambassador Platform.
Thank you so much for agreeing to become a student ambassador to start using The Ambassador Platform to talk to prospective students - we're really excited to see how you get on!
Before you get started on the platform, we want to be sure you feel fully prepared. That's why we sent you through our video training centre before you could create your profile.
Your profile
If you haven't already, please ensure you have worked through our Ambassador Training centre, downloaded The Ambassador Platform App and completed your profile, including uploading a profile photo (your admins won't be able to activate your profile on our platform without a photo).
Your profile is really important - it sits alongside all the content you'll create on our platform and will be the first thing a prospective student is likely to see. With that in mind, please take the time to fill it in accurately; naturally, if you're a student, you'll want to select yourself as 'student', then be sure to include:
your home town and country

your subject and year of study

your wider interests and societies
A prospective student might click on your profile for a number of reasons - because they want to study the same course as you, because they're from the same town or country as you, or because they share some common interests - put as much detail in your profile as you can!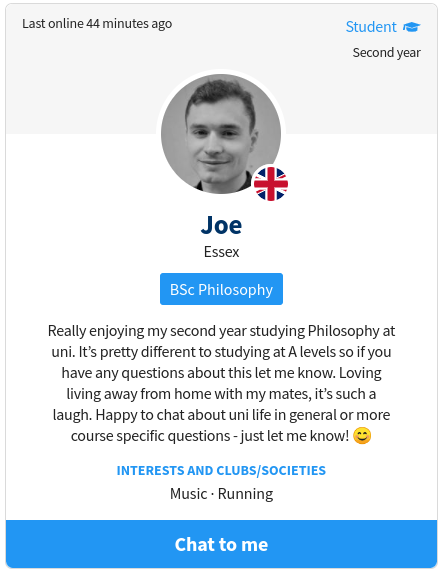 As part of your profile, take the time to craft a great biography too. Make it personal, friendly and encourage people to start chatting with you. Have fun with it and get creative - you can use emojis too if you like. If you're stuck for ideas of what to write, maybe explain why you are pleased to be an ambassador or suggest some things that people might want to ask you.
Some general tips
Remember our three top tips for how to approach being a student ambassador:
be friendly (that's a given really)

be honest - talk from your experience and, if you don't know the answer to something, don't be afraid to admit it - you can send web links to useful pages or you can other ambassadors or admins to a chat

be responsive - we don't necessarily expect you to respond to messages instantly, but try and do so within no more than 24 hours. Also, remember that prospective students want to hear from you, so talk about *your* experience - just be yourself and have fun.
Keep it fresh!
Your profile, biography and photo can be updated at any time and as often as you like! You can also customize the default first message that is sent to a prospective student when they start a chat with you - another really important opportunity to get your personality out there and really encourage them to ask you questions.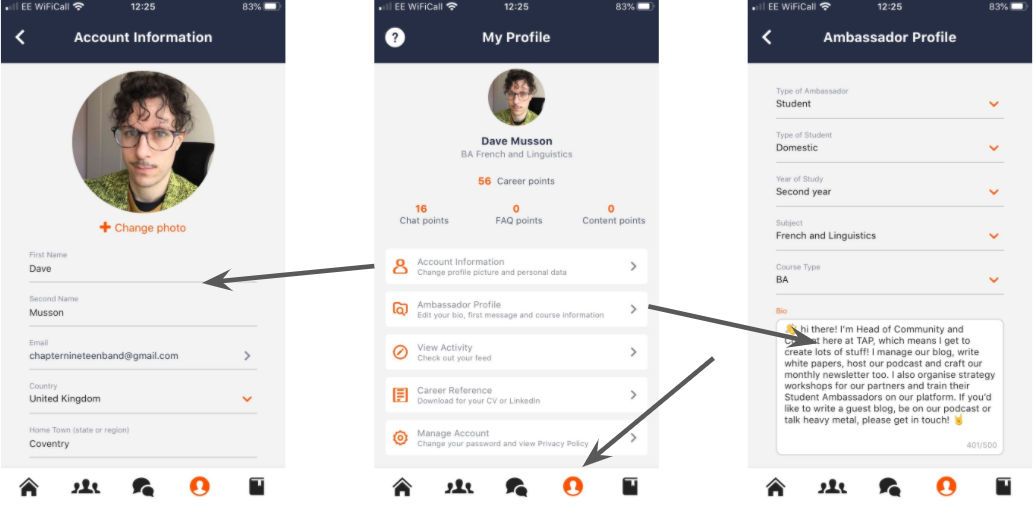 If you get stuck at all within the app, hit the chat support button (a question mark in the top left) and someone from The Ambassador Platform will be on hand to help as soon as possible!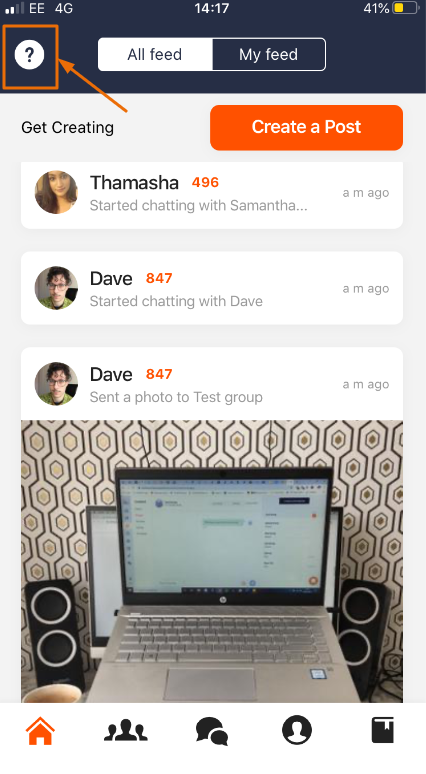 Chat
When chatting to a prospective student, be yourself and be as helpful as you can be - pay attention to their questions and answer them as best you can, but don't be afraid to add in extra details too. The more friendly and conversational you are, the more confidence you'll give the other person to ask you more questions and keep the chat going.
Certain keywords are automatically blocked by our system and have to be reviewed by an admin - this is mainly to stop personal contact details or social media details being exchanged over our platform and is done to keep you safe. Don't worry if a word gets blocked - it just shows our platform is working properly!
Don't forget, if a chat goes in a direction that makes you uncomfortable, you can flag it within the app and an admin will be notified to step in. Hopefully you won't have to use this feature but, once again, it is there to keep you safe and happy.
We quite often see prospective students apologize to student ambassadors for wanting to ask lots of questions - this is because they value your time and input so much and because you taking time out to chat to them really does make a difference. Someone saying this to you might come across as strange at first, but take it as a compliment!
When you've finished a chat with a prospective student, you should close the conversation. This will then send a quick survey to that student for them to rate how helpful you were.
In any chat conversation, you can invite one, or many, other ambassadors to join you - and you can invite admins to join too. You might want to do this if you don't know the answer to a question, or simply if you want to bring in more ambassadors to give a wider perspective; for example, if someone asks you about a society you're a member of and you know another ambassador is also part of that group, why not bring them into the conversation?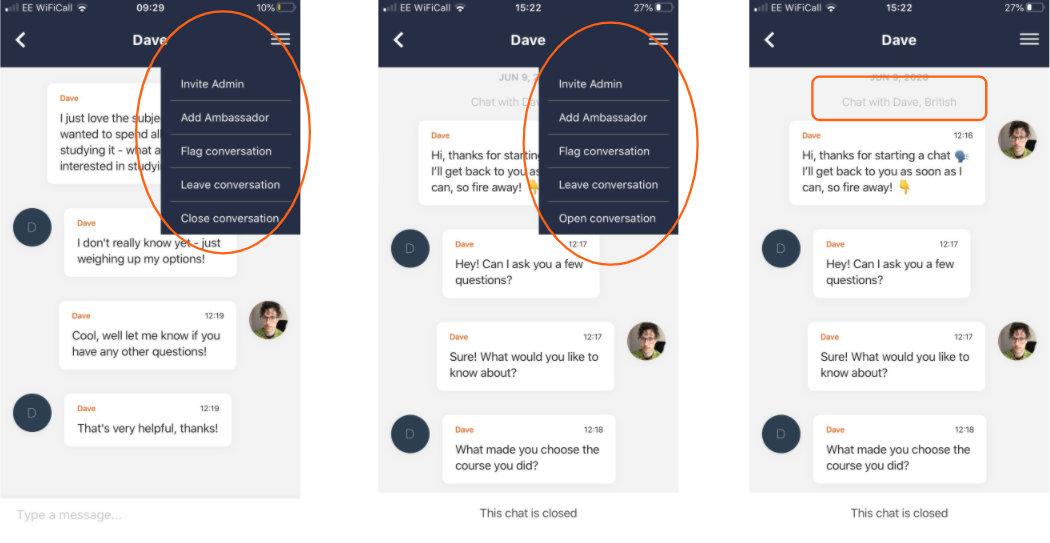 If you do add more people into a conversation and feel like you are no longer needed, you can choose to leave that chat if you wish.
If you'd like to receive email notifications and reply on a desktop each time a student sends you a message, ensure you enable email notifications in your app.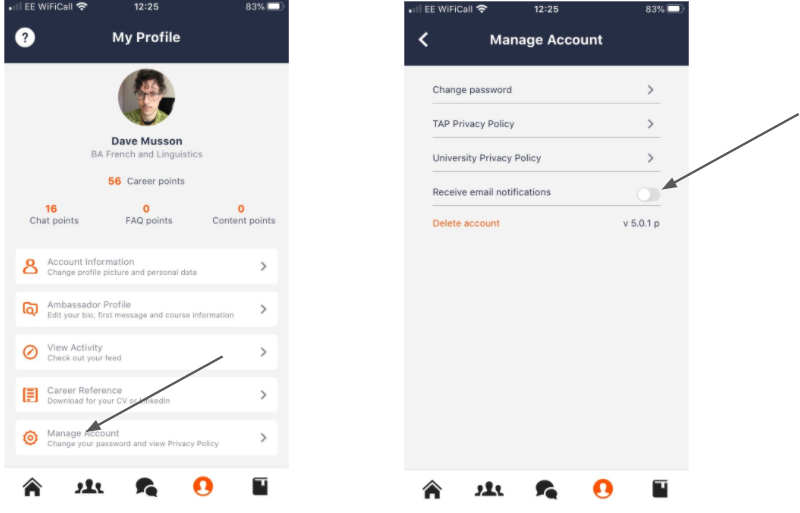 Content and FAQs
When creating content, you can either capture new images in the app or pull them from your camera roll.
Photos and videos automatically crop to a square in the app - bear this in mind when composing or choosing your content.
Don't forget to add a caption to your content that explains what is going on - captions are fully searchable on your feed so are really important to include. They also help explain your content to your admins!
You don't have to wait to be asked for content - you can, and should, submit something whenever you like by hitting 'create post' on the home-screen.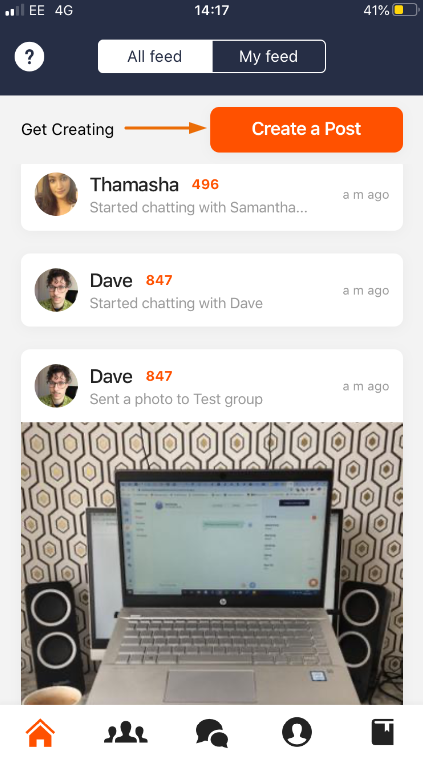 A great first piece of content for you to create is to record a short (30-60 seconds) video of yourself. Say who you are, what your study, what you like about your University and what people might like to chat to you about.
Admins are able to edit your captions and FAQ answers - this will almost always be simply to correct any typos that might have slipped through. They will also be able to view all of your chats at any time, and can join a conversation if needed, without you inviting - for example, if there is a safeguarding issue.
For FAQs, take the time to write longer answers than you might send in a chat. Aim to write at least 4-6 sentences when answering FAQs, go into details, talk from your experience and really be as helpful as you can be.
If you can't answer an FAQ - because it relates to a campus/course/accommodation block/etc that you've never experienced - that's fine. Just answer those you can add something to.
Other things to remember
For everything you create on the app you'll earn career points. You'll earn additional points when your content is downloaded or published. All of these points will help you climb your institution's leader board and could see you named TAP's Ambassador of the Month - if you win that accolade, we'll send you an Amazon voucher.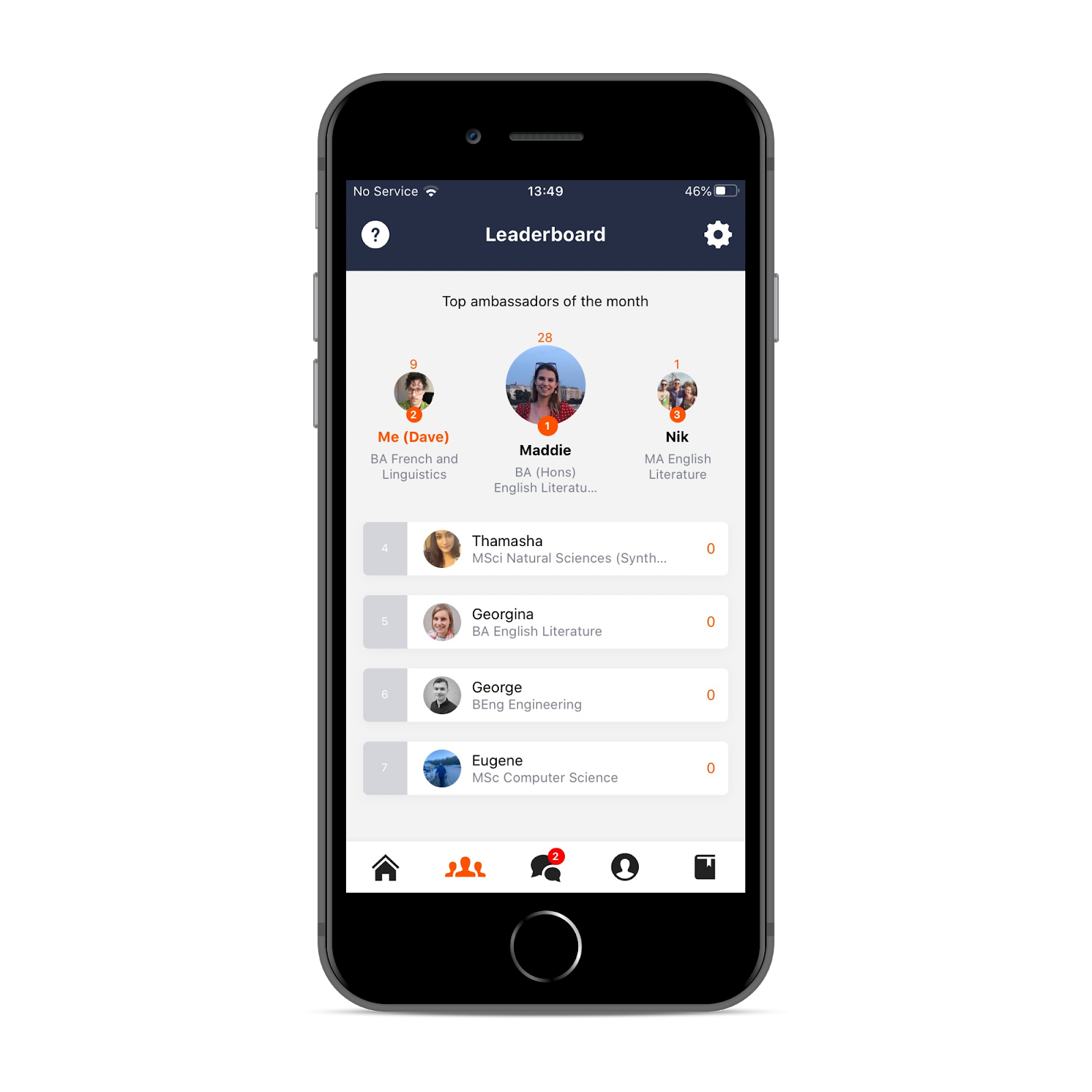 Everything you do on the app will also be logged in your personalized career reference, which you can download from the app at any time and use on your CV, or your LinkedIn profile - it will list all of your work on the app and all the skills you've built doing it.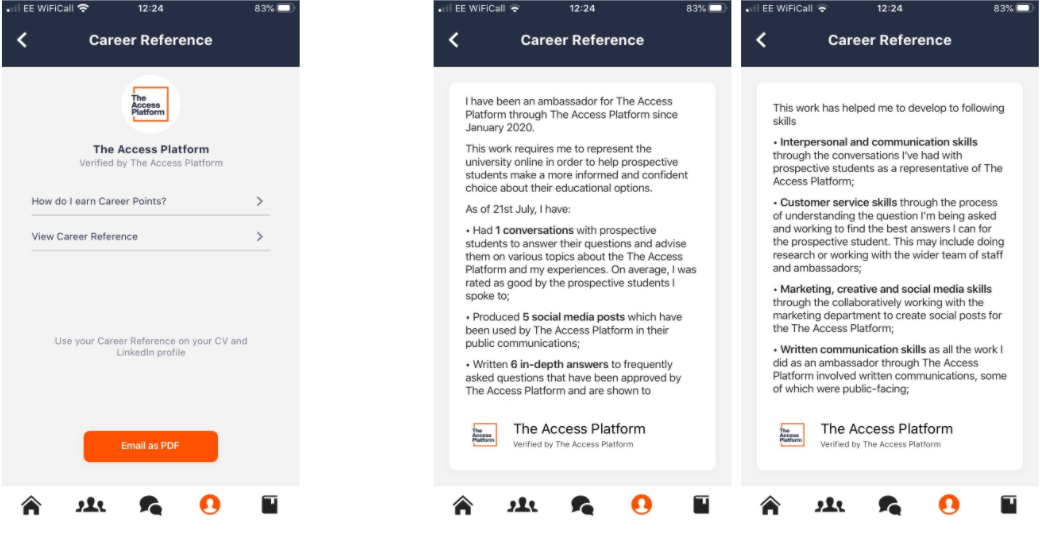 Your time spent working on the app will also be recorded automatically so admins can pay you accordingly. If you can only work a certain number of hours, e.g. to comply with VISAs for international students, your admins will set a time limit on your account and you will automatically be deactivated when you hit your limit. You'll then automatically be reactivated once the next month starts, so you don't need to worry about anything.
If you have any other questions, don't hesitate to get in touch and ask us! Good luck and have fun! 😊