Use the power of video to communicate your unique university experience, engage with prospective students and generate more leads.
Streams is an exciting new way to bring your ambassador and prospective student community together. Live Streams allows you to host events live from the platform and On-Demand Streams gives you the functionality to upload recordings to your Feed, from any platform. Both Live Streams and On-Demand Streams facilitate prospect data capture and encourage engagement with the content via group chat.
Additionally, you'll benefit from the reporting and data insights available on your admin dashboard.
Live Streams
Our Live Streams feature helps institutions run a whole host of online events such as:
Webinars

Virtual Open Days

Taster Sessions

Information Sessions

Q&As
It's a fantastic way of reaching a large volume of prospects at any one time, whilst keeping them connected with you and your ambassadors at all times, even before and after an event.
Every Live Stream is a group chat with video and screen-sharing capabilities. Prospects will see the event at the top of the Feed, both on the home page and in the Live Streams tab itself. You control whether a Live Stream is public, (and therefore appears on the Feed for everyone), or whether it's private and therefore only accessible by a unique link.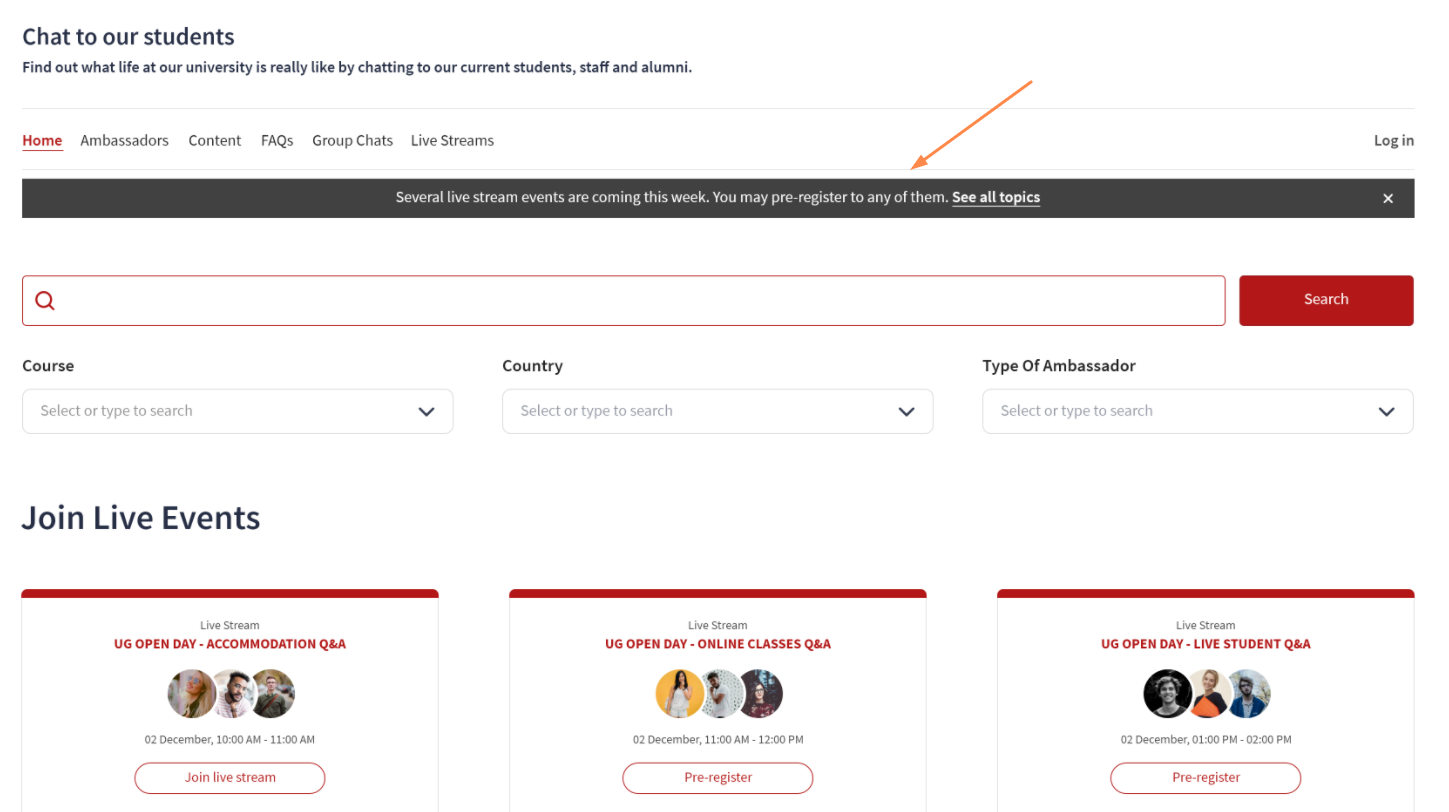 Speakers including admins, ambassadors, and external speakers are able to share video and audio, whilst prospects and ambassadors can participate in a group chat to comment or ask their questions as the event takes place.
Admins can see all messages exchanged during the Live Stream, can enter the chat if necessary, and delete messages. Admins will also be able to stop the event at any time. Stopping a live event does not close the chat, this is a separate action, so the conversation can continue after the event is finished, if you'd like.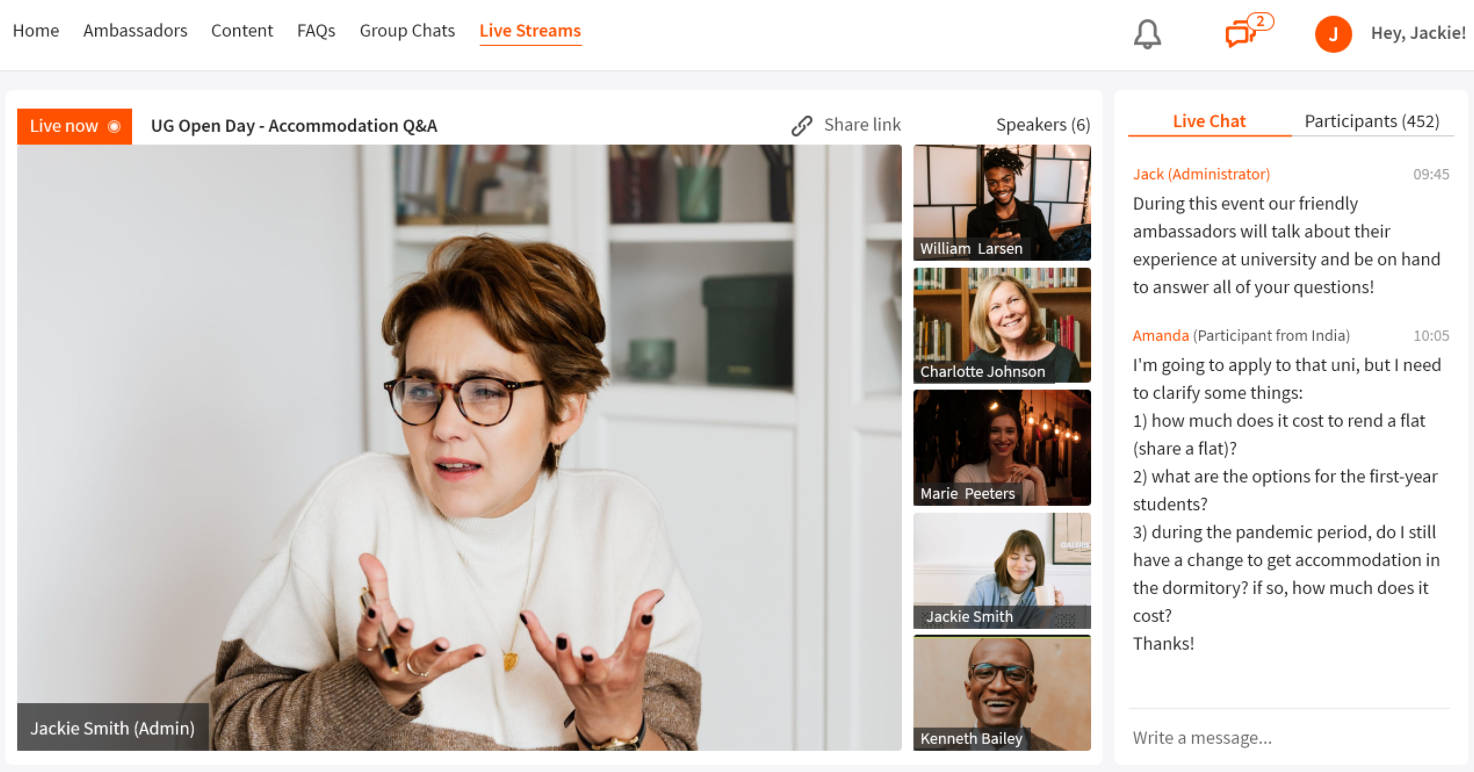 Admins can see and edit upcoming Live Streams, those in progress, and previous events. This includes editing the ambassadors involved in the group chat, the name of the event, time, date, keywords (tags) through which an event can be discovered.
When you start the event you will be able to view it, monitor the activity of participants (including the powerful safeguarding capabilities of the platform), and manage it from the Admin Dashboard — everything works smoothly from the same place for each individual type of user, and you don't need to rely on any external software.
On-Demands Streams
On-Demand Streams allows you to upload event recordings onto your Feed and share them with your audience alongside a group chat where they can engage with your ambassadors.
Share recordings of past events, webinars or Q&A's regardless of which platform they were hosted on

Recordings can private - promoted only with a specific group of prospects, or public - open to anyone visiting your Feed
Build communities around recordings through group chats and 1-2-1 conversations
Select the data fields you want a prospect to complete with customisable data capture
Comprehensive reporting including a list of prospects who've signed up to watch the content
Want to learn more?
If you want to try out Live Streams, just reach out to your Customer Success Manager (CSM). If you would like to talk about this in more detail please speak with your CSM or send a message to support@theambassadorplatform.com 😊