This article provides an overview of key training points for Staff Ambassadors.
Thank you for agreeing to become an Ambassador and using The Ambassador Platform to talk to prospective students on behalf of your institution.
Your profile
If you haven't already, please ensure you have downloaded The Ambassador Platform app and completed your profile, including uploading a profile photo (your Admins won't be able to activate your profile on our platform without a photo).
Your profile is really important - it sits alongside any content and FAQs you create on our platform and will be the first thing a prospective student is likely to see. With that in mind, please take the time to fill it in accurately.
As a Staff Ambassador you'll have the following profile types to pick from:
Academic

Admissions

Marketing

School Liaison

Staff Representative

Advisor
Take the time to craft a great biography. Make it personal, friendly and encourage people to start chatting with you. Describe what areas you can help prospective students with, whether that be course specific, admissions or general university questions.
Some general tips
Your profile, biography and photo can be updated at any time and as often as you like - keep them fresh! You can also customize the default holding message that is sent to a prospective student when they start a chat with you - another chance to be really personal and approachable.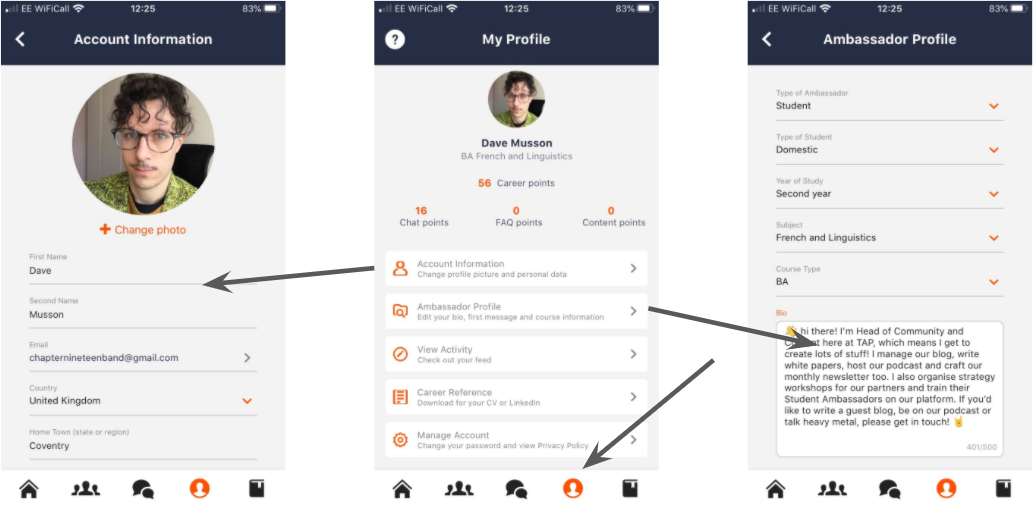 If you get stuck at all within our app, hit the chat support button (a question mark in the top left) and someone from The Ambassador Platform will be on hand to help as soon as possible!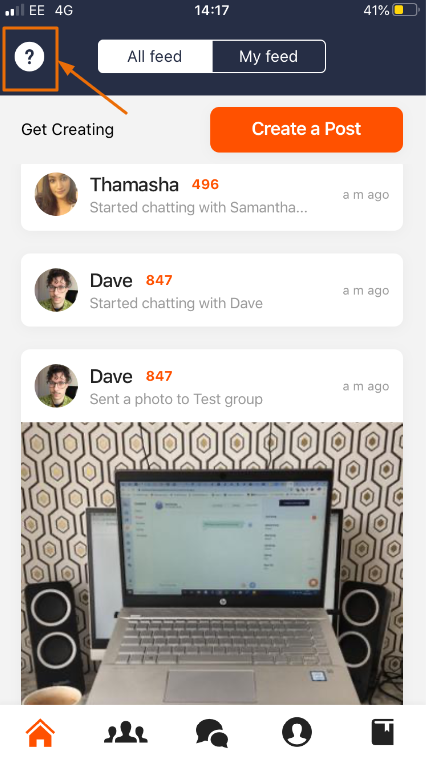 Chat
So that you can receive email notifications and reply on a desktop each time a prospect sends you a message, ensure you enable email notifications in your app: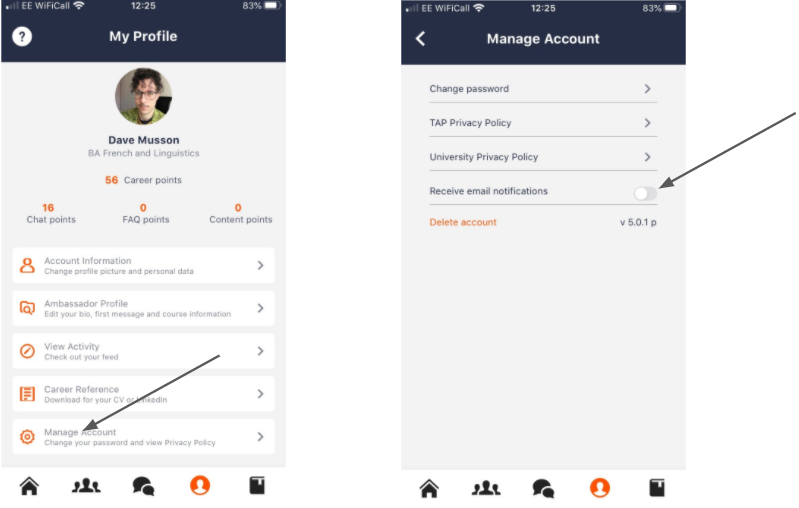 When chatting to a prospect, certain keywords may be automatically blocked by our system to be reviewed by an Admin - this is mainly to stop personal contact details being exchanged over our platform and is for safeguarding purposes. Don't worry if a word gets blocked - it just shows our platform is working properly and will be approved as soon as possible.
If a chat goes in a direction that is inappropriate, or a cause for concern, you can flag it within the app and an admin will be notified to step in. Hopefully you won't have to use this feature but, once again, it is there for safety.
When you've finished a chat with a prospect, or it comes to a natural conclusion, you should close the conversation. This will then send a quick survey to that prospect for them to rate how helpful you were.
In any chat conversation, you can invite one, or many, other ambassadors to join you - and you can invite admins to join too. You might want to do this if you don't know the answer to a question, or simply if you want to bring in more ambassadors to give a wider perspective.
If you do add more people into a conversation and feel like you are no longer needed, you can choose to leave that chat if you wish. You can find these menu items in the top right hand corner of your messaging section.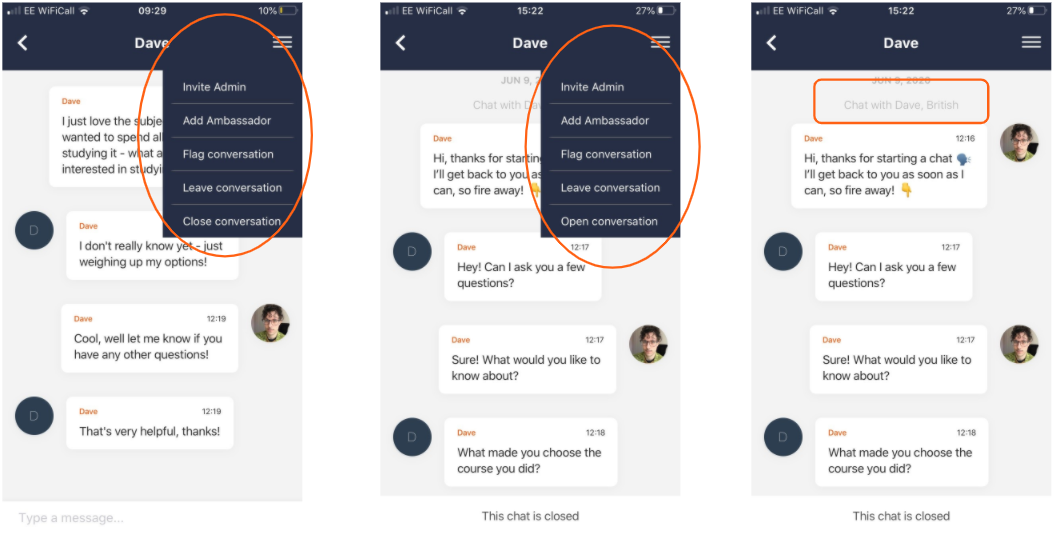 Content and FAQs
When creating content, you can either capture new images in our app or pull them from your camera roll.
Photos and videos automatically crop to a square in our app - bear this in mind when composing or choosing your content.
Don't forget to add a caption to your content that explains what is going on - captions are fully searchable on your institution's feed so are really important to include.
You don't have to wait to be asked for content - you can submit something whenever you like by hitting 'create post' on the home-screen of our app.
A great first piece of content for you to create is to record a short (30-60 seconds) video of yourself.
Admins are able to edit your captions and FAQ answers - this will almost always be simply to correct any typos that might have slipped through. They will also be able to view all of your chats at any time, and can join a conversation if needed, without you inviting - for example, if there is a safeguarding issue.
For FAQs, take the time to write longer answers than you might send in a chat. Aim to write at least 4-6 sentences when answering FAQs to go into detail.
Other things to remember
As our app was initially designed with student ambassadors in mind, for everything you create on the app you'll see that you're earning career points that links to the Leaderboard and personalised a Career Reference. You can of course disregard this but we just wanted to make you aware.
Your time spent working on the app will also be recorded automatically so Admins can review this if that's useful.
If you have any other questions, don't hesitate to get in touch and ask us!