An overview of the pros and cons of different strategies when using The Ambassador Platform across a network.
There are many reasons why our customers consider a multiple account strategy. It might be because they have different brands across a network of institutions or, more simply, they want to have total separation between different groups of ambassadors on different pages of their website. Whatever the reason, your decision to have a single or multiple account strategy will have an impact on the way you administrate and promote the platform to your prospective audience.
Single account strategy
This is where you have a single Admin Dashboard to manage your data, ambassadors and content, and a single Feed to display all of your ambassador profiles and content. In the example of pathway provider, this would be like having a single Feed on a central website for all of your ambassadors across all of your centers.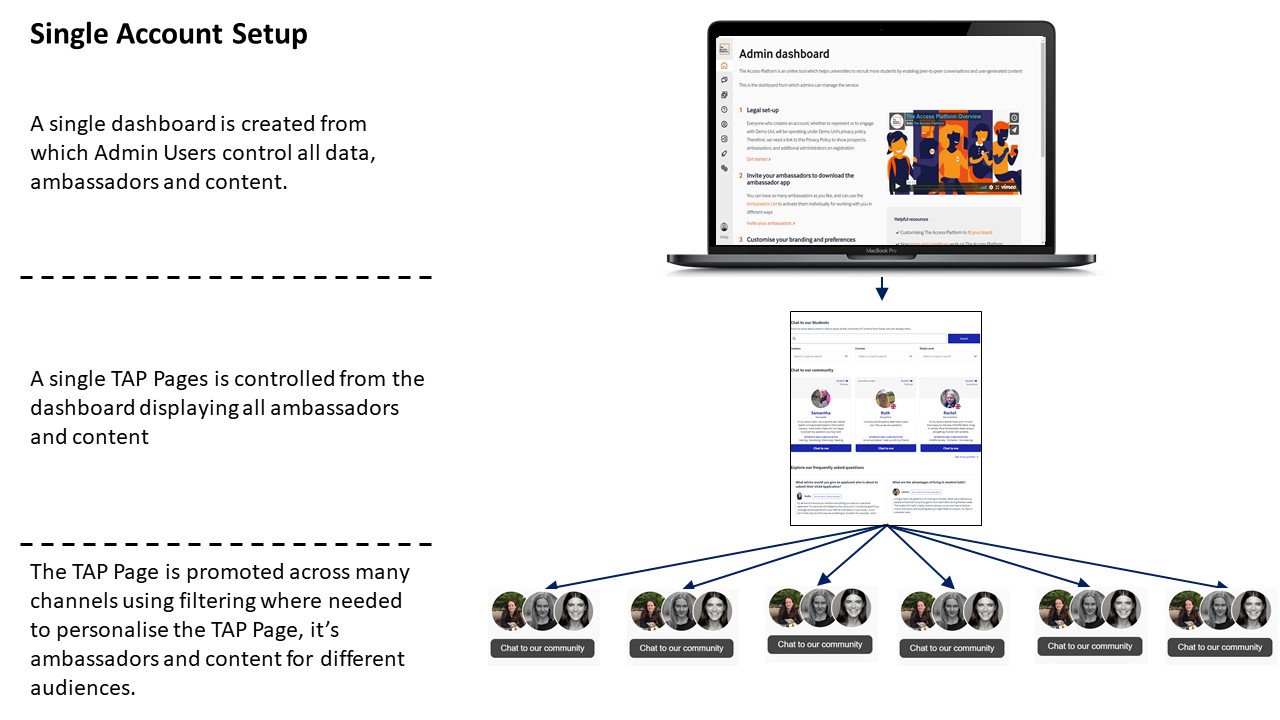 In a single account strategy, you can have as many promotions as you like to make your Feed available across your websites and channels. You can also use filtered promotions to 'pre-filter' your single Feed to only show relevant profiles and content to different audiences. Using the pathway provider example, you could create a filtered promotion on the website of one of your network centers and that would click through to your Feed but only show profiles and content from ambassadors at that network center.
Things to consider:
The account is centrally managed so fewer administrators are likely to be involved.

All of your data, ambassadors and content across your network are in one place, managed from one dashboard and displayed on one page of a single website all together. This content can be filtered apart when exported as a csv file but the dashboard will show it all together.

If you have a large number of admin users on the account from a wide range of different network centers, they will be able to access data and potentially receive notifications from the platform in relation to all centers.

The level of work required to be done at the brand or network center level is minimal, potentially limited to just identifying ambassadors and facilitating their recruitment onto TAP.
Multiple account strategy
This is where you have multiple Admin Dashboards to manage different groups of ambassadors separately and multiple different Feeds to display these ambassadors and their content separately too. Using the example of a pathway provider, this would be like having an Admin Dashboard account and Feed for each individual network center.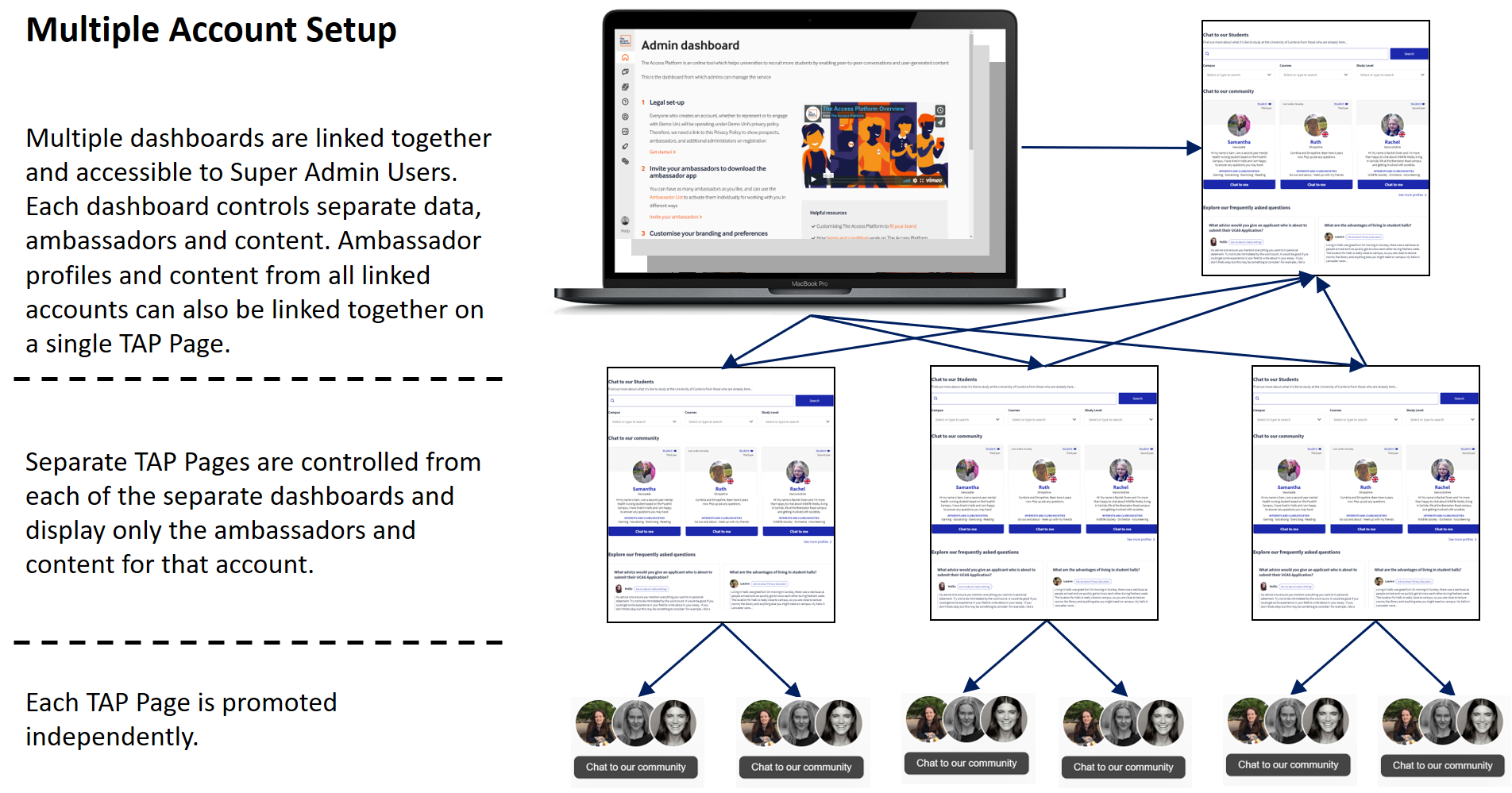 All of these accounts can be linked together so a single admin user can access multiple different Admin Dashboards with ease, view collective reports across multiple accounts and even create a collective Feed for all ambassadors and content in the group account setup to display together in one place.
Admin users can also be added at the individual account level to only see data, ambassadors and content for that individual account rather than the whole group of group accounts.
Things to consider:
This strategy gives more independence and flexibility to brands or network centers to run the platform themselves and promote it in their own way with their own ambassadors. This requires administrative engagement at the brand or network center level to set up and administer. Here is a guide for the work that we recommend is done centrally and at the brand/network center level.

You can use a single Feed (called a Group Feed), collating ambassadors, FAQs and content from the individual center accounts. This can be granted for an additional fee - please contact the team to find out more.
If you have any more questions about single or multiple account strategies, get in touch with us via chat support or email us.