How to leverage social media to increase brand awareness, drive leads to your feed and help with conversion.
Social media is a powerful tool in the decision-making process.
For example, in higher education, prospective students are increasingly using social media to help with their choices - 70% of prospects use it at some point in the application process according to the 2020 QS UK Domestic Student Survey.
Similar stats are true across most sectors, so why not take advantage of this and use social media to directly connect those prospects with your ambassadors and allow those incredibly powerful conversations to happen?
But, how to do this? Well, a highly-effective way is to harness the power of the fantastic content your ambassadors are creating for you, and use it to cut through the noise and really make an impression on a prospect.
You need to be creating and sharing thumb-stopping content that makes people stop scrolling and start paying attention, and then use that content to drive prospects to your feed and, ultimately, start talking to your ambassadors.
In this article, we'll show you how to commission and collect that thumb-stopping content on TAP, use it to drive leads to your feed and start those conversations, as well as cover how you make use of your ambassadors' content in targeted ads to help boost your conversion efforts.
Using TAP to harness your ambassador-generated content
It's really simple to commission, collect and publish your ambassadors' content using TAP. And, by keeping each stage of that process separate from the others, you can reduce potential risks involved in using ambassador-generated content; you can still gather that content without having to hand over passwords and you have complete editorial control over what content is published and where.
To commission and collect content from your ambassadors, head to the Content feature of your dashboard, set up a Content Group and send a request for content.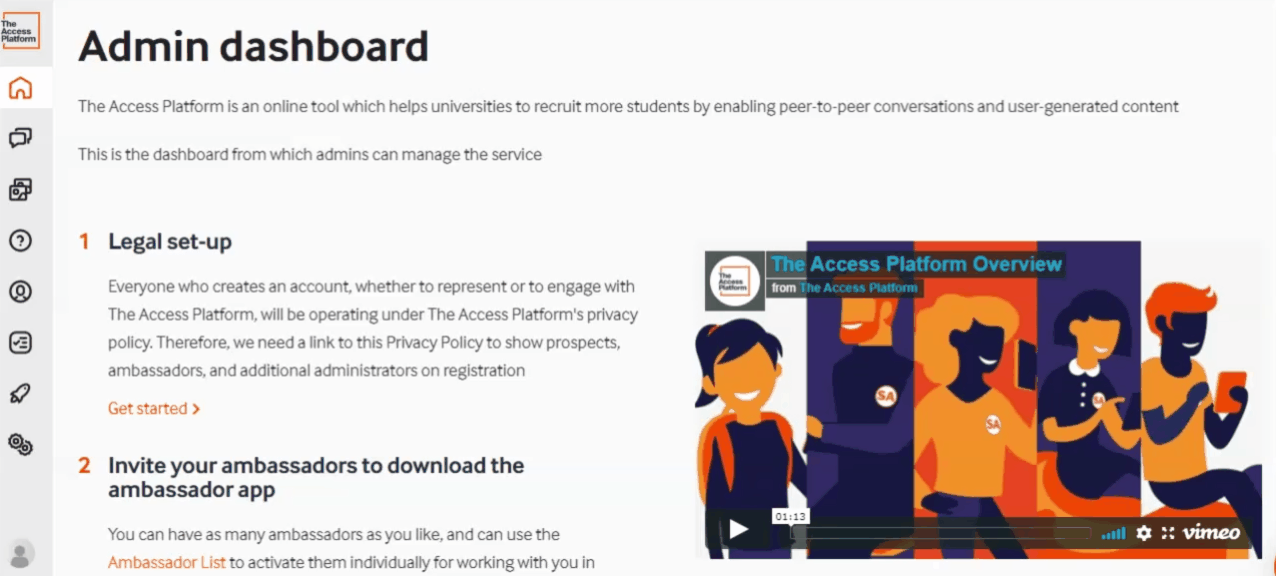 You'll then be able to find submitted content in your Gallery. From here you'll be able to publish content directly to your feed, as well download it or share it to RSS - something we'll look at in more detail later.
Using social media to increase awareness
At the start of any campaign, an institution's biggest challenge is often raising awareness. There are so many places to choose from and lots will have similar messages - after a while, they can all start to blend together.
Not only that, at the start of a cycle there's a good chance your prospects don't really know anything about you yet. Don't see this as a negative; it's actually an opportunity to tell your story in a really engaging way.
To do this, you need to prioritize thumb-stopping content - that is, content that will make someone use their thumb to stop scrolling aimlessly through a feed and actually pay attention. Your ambassadors' content can do exactly this for you, because it is so relatable and authentic.
Using social media for lead generation
If you prioritize filling your social channels with thumb-stopping content created for you by your ambassadors, you'll go a long way towards increasing awareness of your institution with prospects. But, the next challenge is to then get those prospects having conversations with your ambassadors and learning what it's really like to be one of your students.
To do that, you need to use your ambassadors' content to drive people to your feed, start having those conversations, and generate those leads for you. Essentially, it's not enough to just create great content and post it to your feed; make your content work harder for you and spread it across your social media channels, and even your website too.
How to use your ambassadors' content on social media
One of the easiest ways to harness your fantastic content and use it to generate leads to your feed is to download it from the gallery - using the Download button - and reuse it elsewhere, either as an individual photo or video to share on Instagram, Twitter, Facebook etc, or stitch a string of them together into something more substantial.
Our partners NCUK have been doing this consistently for some time now, and have really been able to bring their social media channels and website to life with content featuring their ambassadors that was commissioned and created on TAP, and then shared elsewhere.
They've turned their ambassadors' intro videos into an Instagram Story, and have also made this longer video showcasing their ambassadors' experience of studying in the UK, which sits on their YouTube channel and on the homepage of their website.
Crucially, what NCUK do really well when sharing this content is to include links back to their feed so any prospects watching it can quickly start a conversation with the ambassadors featured in the video, thereby allowing them to use that content to drive traffic and generate leads.
You can also use the Share to RSS button in the gallery to send content to your social media management tool and use as you see fit. There's more information about that here.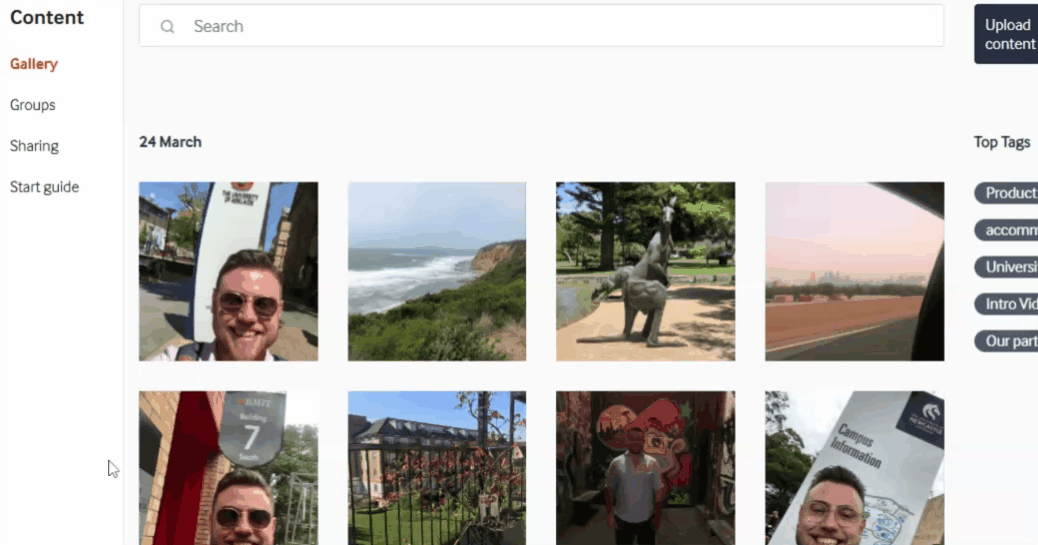 A big advantage of doing this through TAP is that the Share to RSS feature automatically adds a link to the profile of the ambassador who created the content you're sharing. This makes for a great user experience for any prospective student who sees that content - they can instantly find the profile of the ambassador who created that thumb-stopping content and, in a couple of clicks, start a conversation with them.
Using social media for conversion
The bulk of your experience communication management work on social media is likely to be focused on the awareness and lead generation stages of the funnel. When it comes to conversion, the most effective methods are those such as personalized email campaigns, the use of pre-filtered feeds and, of course, getting your prospects starting and continuing conversations with your ambassadors.
However, there is one final social media tactic you can employ that will help with conversion; using your ambassadors' content as the creative in your paid social media adverts.
As an example, look at what INTO University Partnerships have done.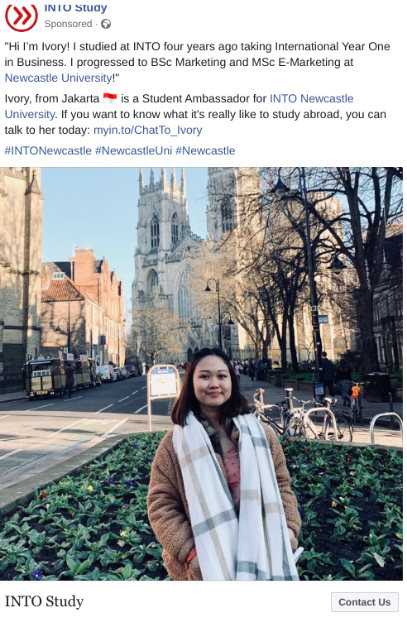 This is an excellent example of how to make a great social media advert to get prospects talking to your ambassadors. The creative is a piece of content created by an ambassador on TAP, while the ad is then targeted to prospects in the same country as the featured ambassador - in this case Indonesia.
It immediately serves a prospect quick access to a student from the same background who is a few steps ahead on the same path they want to take. This is really important for the conversion stage of the cycle, as prospects expect personalization and easy access to tailored, relevant information to help them make a confident decision. This method of using social ads puts them directly in touch with the more relevant of your ambassadors.
Here's another example from Dulwich College Singapore: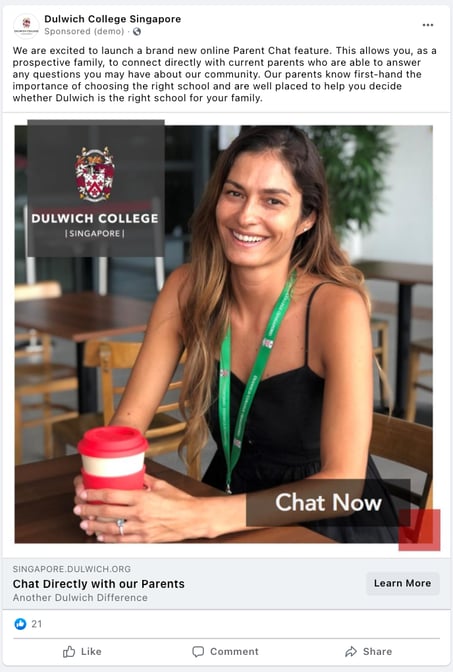 Not only that, there is a growing trend of using UGC in advertising; ads with UGC generate up to five times more click-throughs (Salesforce), a 50% reduction in cost-per-click compared to traditional ads (Shopify), while Toyota increased their Facebook ad engagement by 440% using UGC (Stackla).