Enhance the student experience for those taking part in summer schools or short-term programs by connecting them with your amazing ambassadors!
It can be difficult to truly represent what it's like to study at your institution to a student that may only be enrolled for a short period of time, or who is on campus during the quieter summer months. Your ambassadors are perfect representatives to give an authentic insight into student life and to share their experiences and knowledge with your short-term students (prospects). By encouraging both groups to connect on The Ambassador Platform, you can help welcome, support, and enhance the student experience for your prospects and make them feel part of your institution; whether their studies are in-person, online, or in a hybrid format.
Before Arrival
Encourage your prospects to visit your feed ahead of arrival. By looking at the user generated content shared, they will start to become familiar with what to expect from student life at your institution. They can also reach out to ambassadors with any questions they may have.

The feed for the Head Start programme at Kingston University London is a great example of how to work with student ambassadors to create insightful content for short-term programmes.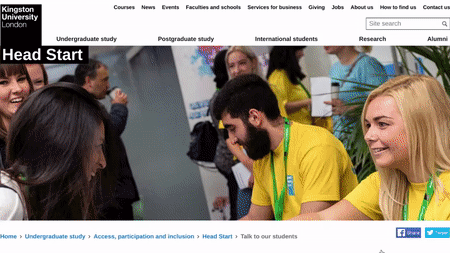 Create a Group Chat that connects your prospects with ambassadors. They will feel more supported in the lead up to the program, which could help ease those pre-study nerves!
Welcome
As part of the welcome events, you could 'buddy' prospects with an ambassador and help them connect on TAP. Use the 'copy link' button in Ambassador List on your dashboard and paste this in an email directing prospects to the specific ambassador's profile. Your ambassadors could act as mentors throughout the program, and regularly check in with the new student to make sure that they feel supported in their new environment.
Our Streams feature can be used to run your welcome presentations, information sessions, and taster lectures with your academic staff!
During the programme
Make the experience more fun by getting your prospects to take part in a game of human bingo with your ambassadors! By asking your ambassadors lots of questions, they will find out more about student life at your institution - offering a small prize to the winner can also help spice things up!
Younger students often need some encouragement to talk to ambassadors online. Share some conversation starter ideas in an email to help get the conversation flowing.
Why not try adding a competitive element to your programme to encourage engagement on TAP? Put your ambassadors and prospects into teams and get them to work on a particular project together. They can use Group Chats to talk through their ideas and arrange in-person meet ups.
Downing College ran a successful online residential in 2021; using TAP enabled them to connect their prospective students with their ambassadors and allow them to stay in touch before, after and during the residential.
Another way you can encourage younger students to interact with ambassadors on TAP is by allocating time in the program itinerary for these conversations. By blocking out 15-minute TAP time every day in your students' calendars for example, it becomes a part of the summer school experience and the expectation to chat online is clearly set from Day 1.
After Departure
Re-engage with the cohort by hosting a follow-up Live Stream. Invite your ambassadors to take part, share photos and videos of the fun times they had on the program, and talk about any upcoming application deadlines and information that they might find useful.
Stay in touch with your prospects and follow their progress - if they apply to study on additional courses at your institution, you may want to consider recruiting them to be an ambassador! They would be a fantastic representative and could share their experiences with potential future applicants.
We hope this has given you some ideas on how to engage with your summer school and short term students on TAP! Please feel free to reach out with any questions you have by emailing support@theambassadorplatform.com.